College Internships
- At HSN, we know how to have fun. And you know what they say, all work and no play makes for a really dull day. That's why we're looking for energetic and passionate students like you to join us. With opportunities spanning the business in Merchandising & Planning, Marketing, Digital, IT, Legal, Finance & Television, you'll gain real world experience with a leading interactive entertainment and lifestyle retailer and be part of the network that's reaching 95 million homes, every day.
"There was never a dull moment. I was always learning something new."
—Michelle, Merchandising and Planning
Awesome Internship?
Add to bag.

With every department playing such an exciting role in bringing our business to life, you'll see that, HSN is the perfect place for you to launch a career doing what you love. Browse our departments and see what fits you best.

Merchandising & Planning

The Merchandising & Planning Internship program is designed to provide an overview of the buying and planning functions. Through this Internship, you will gain experience by working with Buyers in collaboration with Merchandise Planners, Programming Managers, Television Team, Quality Assurance and Vendors to develop and create the product selection that sets HSN apart. The Merchandising & Planning Internship provides a unique opportunity to observe the development of business strategies that drive sales through assortment selection, product development, pricing, presentation and promotion. Learn More >

"I loved that I was able to see and learn about the different areas of the company and how they all worked together. This really helped me to see that merchandising was really an area that I would like to work in."

– Courtney, Merchandising and Planning

Marketing

The Marketing Internship program provides the opportunity to learn the basics of building a brand, understand the essentials of PR, see the importance of strategic partnerships and learn to read the language of consumer habits. Learn More >

"The great thing about my Internship was that it allowed me to build strong relationships across the company – relationships which helped me to find and move into the perfect full-time role."

– Drew, Marketing

Digital

HSN's digital business engages, entertains and encourages our customers to shop with us 24 hours a day, 7 days a week across all of our integrated platforms. The Digital internship program provides exposure to multiple areas of the business, including but not limited to Marketing, Merchandising, Technology, Creative and Social Media. You will gain exposure to the strategic and tactical initiatives related to building the HSN brand, driving traffic to the website, promotional events, and content execution on emerging media platforms. Learn More >

Television

As one of the largest departments within HSN, Television strives to develop, communicate and execute the most effective, compelling and energized sales strategies possible, while always preserving an on-air atmosphere of trust, sincerity and engagement. The TV internship program covers many aspects of live and pre-produced production and includes the following opportunities: Supervising & Associate Producer, Assistant Producer, Visual Coordination, Fashion Stylist, Set Stylist, Scenic Technician & Lighting Grip, and Production Technicians. Learn More >

"When it came to balancing a busy work and class schedule with interning on the weekends, being part of a 24/7 network really did help. The fact is, HSN has time options to suit almost anyone."

– Jason, Television
"It was great to get real world experience alongside my academic career."
— Natalia, Broadcasting
Have it all. No bargaining necessary.
In between the celebrity sightings and new product launches, HSN remains dedicated to providing you with everything you need to launch a successful and rewarding career—with the possibility of being hired as a fulltime employee.

Through our hands-on internship program, you'll gain real-world experience in one of the most exciting and fun work environments there is. You'll do work that matters and see your impact first-hand, whether it's on screen or behind the scenes. Alongside supportive mentors, you'll learn the responsibilities of your role, interact with industry experts across the business, and emerge fully prepared to take on a full-time position. Oh, and did we mention the sweet benefits? Discounts on all retail purchases and exclusive access to our employee store.
Program Parameters
1

Student must be working towards a Bachelors Degree in a related field with the ability to obtain course credit through the college or university for non-paid program.

2

Student must commit at least 20 consistently scheduled hours per week; interns can work up to 40 hours per week and will have the opportunity to meet the hourly requirements of the university.

3

Program is based at our corporate office in St. Petersburg, FL and would require temporary relocation to St. Petersburg, FL for non-local students.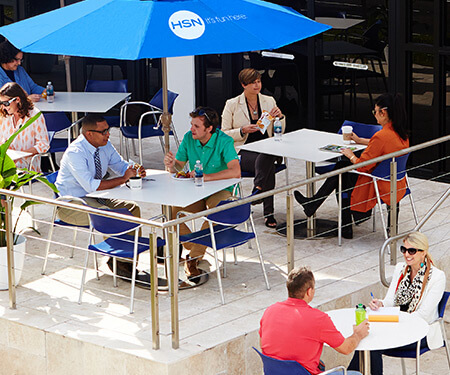 Fun in the Sun
Work hard; play harder in St. Petersburg, Florida—home of our broadcast studios and corporate headquarters. From beautiful beaches to cultural attractions, the Sunshine City is known for its warm weather and blue skies. Into biking, boating, sports, museums, shopping, or finding the hottest trend in the culinary scene? You'll find it all here in sunny St. Pete.
Best Community for Young People

– America's Promise

Most Livable Community of the Decade

– Partners for Livable Communities

#4 Best US metro area in which to live

– Places Rated Almanac

Ranked among Top 10 Communities for Creative Class

– Southern Business & Development
Join Us
it's fun here
Submit
Can't find what you're looking for? Create a candidate profile and we'll reach out to you when we have an opportunity that interests you
University Representatives
Have a student in mind that would be a great fit for HSN? Email HRrecruiting@hsn.net to connect with a Recruiting Partner today.